Due to lack of manpower, we are currently canceling luggage delivery and drop off.
We apologize for the inconvenience.
We will take care of your current reservations.
e-SHARE will provide  free luggage delivery service  for the customers who rent electric scooters in OTS Rent-A-Car which is located in Airport rental station.  
service area and Time
Free luggage delivery service is available within city area hotel (except Airbnb) or Seaport Terminal.
Service Time is from 9:30 to17:00 (No time specified)
example if you have luggage,
We pick up your luggage from airport OTS shop
⇒Rent: you ride e-bike and we send your luggage from Airport OTS to city hotel or Seaport Terminal.
⇒Return: you ride e-bike to shop and we pick up your luggage from hotel or Seaport Terminal to Airport OTS. and then we drop off your luggage to airport OTS.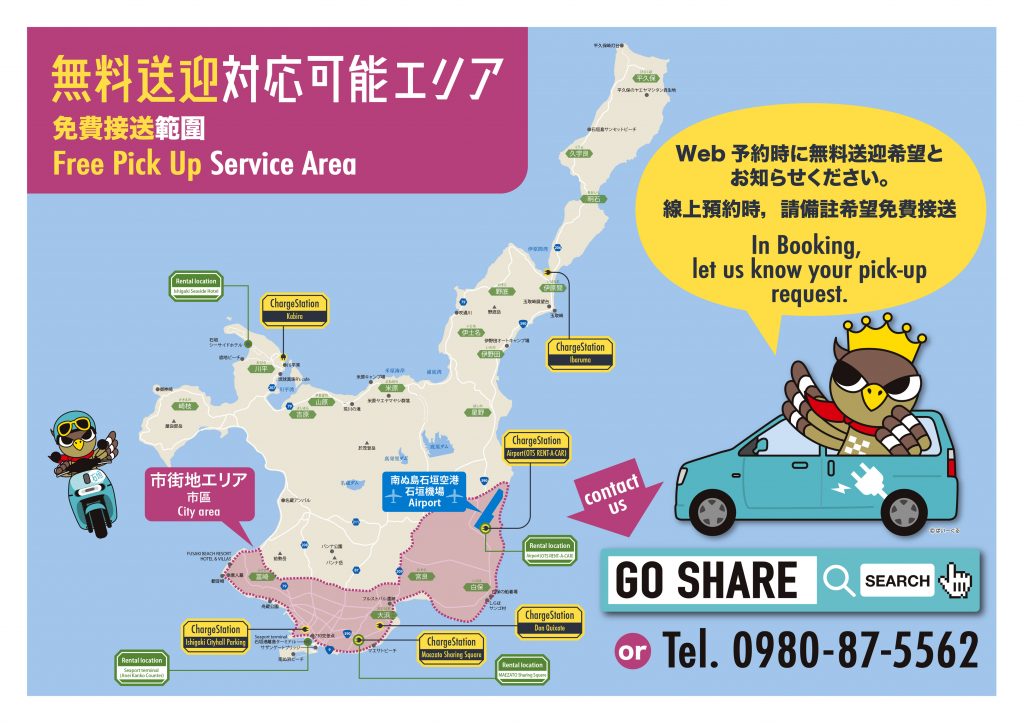 If you have any questions, please contact us. We also provide the benefit to the customers who rent the electric scooter for more than 2 days. pls check it!!
Condition
① the service is limit to customer who rent from Airport OTS Rent-A-Car.
② This Service is only for customers who rent more than 4 hours.
③ Pick up date should be rental date and drop off date should be return date.
④ Pick Up/Drop Off between 9:30 to 17:00 (no time specified for delivery to Hotel)
⑤ Advance reservation is required
⑥ Airbnb is not applicable even within the area.
⑦ The luggage will be left at the front desk, so it is limited to places where there is a front desk and staff are resident.
Reservation
① When you make a reservation, please choose 【Ishigaki Airport (OTS Rent-A-Car)】 for rental place.
https://www.ridegoshare.jp/en/
② pls entry  fly schedule and hotel information including Name and address and the latest check out Time
If free luggage delivery is needed.
GO SHARE hope you can enjoy your trip in beautiful Ishigaki island. we are looking forward to your visiting,
contact here ★
GO SHARE Official HP